Book now
Hotel Le Regence Paris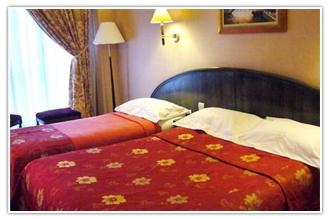 Le Regence Hotel is located in the 8th district of Paris, only a few steps away from the popular Grands Boulevards and the famous Galleries Lafayette.

Staying at our hotel will be a unique and memorable experience thanks to our ideal position close to the Paris Opera and Montmartre, but also thanks to our available and welcoming staff.

Our hotel offers guests very comfortable rooms, designed with a refined and tender style, creating a warm and romantic atmosphere.

Guests will be pleased to take advantage of this relaxing ambience to rest after a long day of work, chopping or sightseeing.

All rooms come with their own private bathroom and offer the following services; Wi-Fi internet access, hair dryer, satellite TV, telephone with direct line, mini bar, in room service, safe and alarm clock.

The Le Regence Hotel's romantic and pleasant atmosphere is the ideal choice for your next trip to Paris.
Give us your Feedback
Le Regence Hotel, 33, Rue Saint Petersburg - Paris